Tips for Finding the Best Demolition Company
When you are looking for the best demolition company to complete your project, there are many things to consider to make sure they can complete the project to a satisfactory level. At first glance, many demolition contractors appear to offer the same services. As you may find, this is very far from the end result.
Here are some things to consider during your search for the best demolition company. If you are looking for a demolition company serving the St. Louis, St. Charles, or Columbia areas that can provide excellent service and checks all of these boxes, contact AES  to learn more about our services!
Other Services Offered
When looking for the best demolition company, you should consider what other services they offer. For example, if you find after the project has begun that you require asbestos abatement, and the demolition company cannot offer this service, you will have to find a separate company who can complete this abatement before any work can continue.
Licenses and Liability
Demolition is a dangerous job. At the top of your list of priorities should be to ask the potential contractors for proof of insurance and license. These will guard against liability for any accidents that may occur on a building site, but will also show they are registered to carry out such projects.
Planning and Preparation
The planning and preparation required for any demolition project can be highly detailed and meticulous. The best demolition company will show their value at this stage. Their professionals should prepare and obtain all permits and planning permissions required to maintain the legality of the project.
Previous Demolition Experience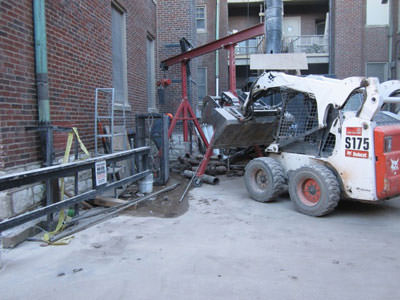 You should consider the type and amount of experience the contractor has in this line of work. Looking back over their past experience can show they are familiar with the laws and requirements to complete a job of this nature.
Estimate and Timeline
Asking for an estimate and a timeline can give you a basis of comparison against other contractors. If the contractor can provide a timeline, it shows they are organized and have a good understanding of what is involved. However, be cautious of timelines and estimates that are way below others. In many cases, things that seem too good to be true, often are.
Demolition Company Professionalism
A certain level of professionalism should be upheld by the demolition company you choose. The company should be certified and recognized by several organizations respected in their industry.
The Right Contactor for the Right Job
The best demolition company for your project is the one that can offer expertise in that field. Keep in mind that many contractors only offer service for a specific type of demolition.
Equipment Used
Before hiring any demolition company, it is important to know the type of equipment they plan to use, the best demolition company will have access to a wide range of equipment that is specially designed for the purpose intended. If the contractor has access to up to date machinery, it shows they are able to perform any diversity of jobs.
Demolition Clean Up
Does the contractor include any cleanup operations in their quote? The best demolition company will not just add it into their quote but will make a point that everything is cleaned up and disposed of correctly, as their duty of care to the environment.
Contact Our Missouri Demolition Company
When you trust your demolition project to AES, regardless of size, it will be handled professionally from start to finish. This includes all planning, testing, legal paperwork, and demolition service, including any remediation or asbestos abatement that is required.
By using AES as the sole contractor for your project, you will have the peace of mind knowing you have chosen the best demolition company for your project. To learn more about our demolition services or to request a quote for your Missouri project, contact the experts at AES.