Asbestos Testing Service in St. Louis, St. Charles, & Columbia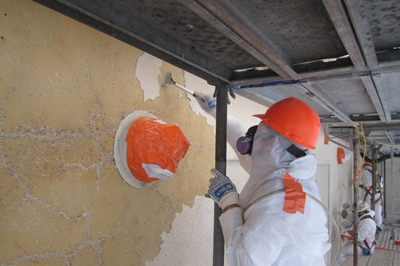 Here at Advanced Environmental Services Inc, we offer asbestos testing and treatment services in Missouri for clients ranging from the homeowner to commercial projects of any size. Our asbestos testing service can determine what type of asbestos is present, where the asbestos is contained, and what work needs to be undertaken to remedy the situation.
To learn more or to schedule an asbestos testing or abatement appointment, contact our professionals today!
Why You Need Professional Asbestos Testing Service
Asbestos is a natural fiber that has an ability to withstand heat and corrosion and has high insulation properties. It was widely used up until the mid-1980's in the manufacture of many building materials including ceiling and floor tiles, roofing materials, and even in car brakes.
It is now known that asbestos has been linked to many health concerns including asbestosis and mesothelioma. Due to the potential health problems that can occur, it is strongly recommended that asbestos testing to be undertaken if suspect building materials are deteriorating or before any major renovation or construction project which can release the asbestos into the air.
Asbestos Testing: Understanding the Results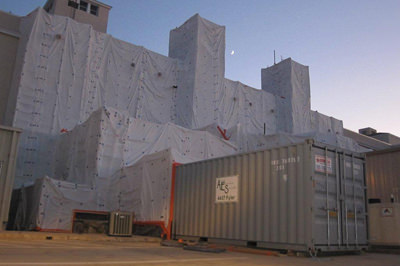 While many believe that the only option if asbestos is found during testing is complete removal, this is not always the case. Since asbestos can be used in many different areas and the current condition of the asbestos can vary, it may not always be necessary for complete remediation. For example, even if asbestos containing materials are found, abatement or encapsulation of the asbestos may be sufficient is some circumstances. Our qualified inspectors will not only carry out asbestos testing by evaluating your entire property or building, but we will also give you a detailed report of which approach is the best for you.
Areas with Potential Asbestos
When considering asbestos testing, it is important to know what the most common areas are where asbestos can be contained. At Advanced Environmental Services, our experienced inspectors will undertake asbestos testing in the most common areas where asbestos can be found. These can include:
Resilient Floor Tiles, Tile Adhesives, and Vinyl Sheet Flooring: The condition of these materials will be tested, and if any tile has the potential to be broken by hand, it is a sign asbestos fibers can be released into the air.
Asbestos Cement Roofing: Since these materials are normally highly durable, and will not normally release any fibers unless cut, sawed, or drilled, it is only necessary to carry out asbestos remediation for these areas if a major renovation or demolition project will be undertaken.
Soundproofing or Decorative Sprayed Wall Coverings: These have the potential to become water damaged, which in turn will result in loose or crumbly materials. Our qualified inspectors will notify you if immediate asbestos remediation is required.
Door Gaskets in Stoves and Furnaces: With repeated use, these can become worn, and as a result, fibers can be continually released into the air with each opening and closing of the door. Our inspectors will be able to test the condition of the seals during their asbestos testing.
Contact Us for Complete Services from Asbestos Testing to Abatement in Missouri
At Advanced Environmental Services, we offer a full range of services related to asbestos testing and abatement, whether you require asbestos testing before any renovation project or you are in need of complete asbestos abatement prior to demolition. We understand the health risks involved and closely follow all guidelines that are laid out by the EPA to ensure thorough and safe removal.
If you have any concern you may be at risk of exposure to asbestos, the experts at Advanced Environmental Services can help. For more information or to schedule asbestos testing services in the greater St. Louis, St. Charles, and Columbia areas, contact our experts today.