Interior Demolition Services in Missouri
Interior demolition commonly refers to the removal of the internal components of a building in a safe manner without affecting the integrity of the external structure. This can include the demolition of walls, pipes and fittings, partitions, and ceilings so as to leave a clear area ready for the next stage of the project. Interior demolition is often done as part of a large renovation or restoration project.
In St. Louis, St. Charles, Columbia, Missouri, and the surrounding areas, Advanced Environmental Services can provide you with this interior demolition services no matter how small, large, or complex your project may be. Contact our environmental remediation experts today to learn more.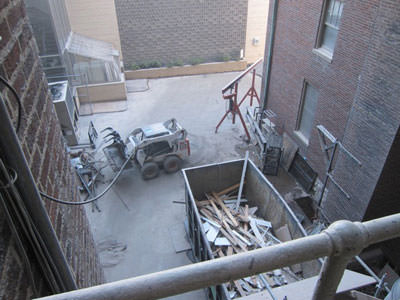 Who Needs Interior Demolition?
There are many types of businesses, buildings, and institutions that may require interior demolition, these can include:
Retail Shops
Offices
Hotels
Warehouses and Manufacturing Plants
Residential Homes
Schools and Universities
Condominiums
Apartment Buildings
Historical Buildings & Homes
While interior demolition is often the first step in most renovation and restoration project, it can be required for other types of projects as well. For example, interior demolition may be required to remove mold infestation due to a flood, broken water pipes, or leaking roofs as well. Additionally, if hazardous building materials such as asbestos and lead are found in the ceiling tiles, flooring, insulation, or paint, demolition may be required as part of the remediation process.
Complete Interior Demolition Services
AES can perform hazardous material abatement and mold remediation as part of an interior demolition project. Our skilled workforce will not only remove and dispose of the affected materials, they will also clean the air and clean the surfaces within the contained workspace before final air testing is conducted to give the work area a final approval.
As part of our asbestos abatement service or when handling any hazardous materials, we will contain the area, and all documentation is handled by our in-house professionals, leaving you worry free regarding the legality of your project. As a duty of care to our clients, we also dispose of all asbestos containing materials in a safe and efficient manner to the correct authorized facility.
AES is one of the leading interior demolition contractors operating in Missouri, and we can undertake any project, regardless of the size. In some cases, our contractors can even carry out demolition while the building is still occupied, causing minimal disruption to your business.
Protecting the Environment During Demolition Projects
Not only do we have a duty to ensuring the safety of workers or occupants of your premises, we at AES also believe we have a duty to protect the environment. During any of our interior demolition, asbestos abatement, or mold remediation projects, our skilled workforce not only confines the area, but uses air filtration machines to ensure no dust, spores, or asbestos fibers enter the atmosphere.
To further protect the environment, any materials which can be recycled are segregated to be re-used, and any harmful materials that are found will be disposed of by the corrects means. These can include fluorescent lighting fixtures, old wiring, PCBs, ACMs, etc.
Request an Interior Demolition Quote
To learn more information about our interior demolition services or to request a quote for interior demolition as well as complete mold remediation or asbestos abatement services, contact the environmental remediation professionals at AES today.