Commercial Mold Remediation
Mold growth in large commercial buildings can be a major problem, especially because mold contamination can spread over a large area through airborne spores. Therefore, commercial mold remediation can be difficult because it involves both locating the initial problem or moisture source that contributed to the mold growth, as well as finding all of the areas that mold has contaminated. Advanced Environmental Services offers commercial mold remediation services for residential buildings, healthcare facilities, office buildings, and any other type of commercial property. We offer mold inspection and mold remediation services for clients throughout St. Louis, St. Charles, and Columbia, Missouri. If you have recently discovered mold problems, contact our professional mold inspection and remediation specialists to learn how we can solve your mold problems.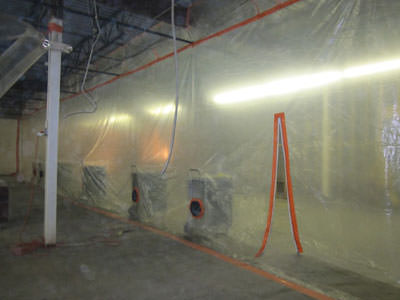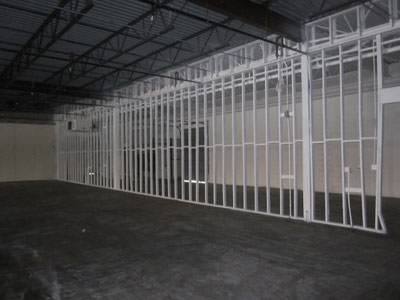 Mold Remediation and Indoor Air Quality in Commercial Buildings
There are a number of factors that contribute to overall indoor air quality including outdoor contaminates from pollen and industrial pollutants, emissions from nearby sources including loading docks and nearby dumpsters, pollutants released from building materials including asbestos or lead, and mold spores from mold growth in the HVAC system or as a result of other moisture problems. The EPA has set guidelines regarding safe levels for some of these pollutants and contaminates, however, guidelines do not exist for all types of indoor air pollutants. For example, there are not set levels for airborne mold spores that are deemed acceptable or unacceptable. However, any amount of mold existing in a commercial building can cause health problems to the in habitants. Additionally, any amount of mold contamination requires a real estate disclosure during the sale of the property and can become a liability when space is rented. Therefore, if you find mold in your property, it is recommended that you contact a professional commercial mold remediation company as soon as possible to assess the situation with a thorough mold inspection and to begin the mold remediation process.
About Commercial Mold Remediation
Because mold spreads through airborne spores, any minor mold contamination has the potential to become a major problem in a large commercial building. Therefore, it is important that commercial mold remediation projects begin soon after the initial mold problems are noticed. Advanced Environmental Services offers commercial mold remediation services for schools, office buildings, healthcare facilities, industrial plants, and other types of buildings. We understand the unique challenges that are related to commercial mold remediation. Therefore, during each commercial mold remediation project, we attempt to contain the mold spores within a defined construction area. This will help to limit downtime and business interruption, allowing you to continue business and prevent or minimize a loss of revenue during the mold removal process. Additionally, because mold contamination can cause a serious health risk especially as mold is disturbed during the mold remediation process, we pay close attention to containing mold contamination within a set work zone.
In any large commercial mold remediation project, it is not only important to remove and replace any contaminated materials, but also to determine the cause of mold or mildew problems. By determining and addressing the cause of mold contamination, you can prevent future mold growth. Common issues that lead to mold problems and result in the need for commercial mold remediation services include:
Pipe and roof leaks
Condensation near exterior walls or windows
High humidity levels
Delayed maintenance to moisture problems
Additional Mold Commercial Mold Remediation Resources