Concrete Grinding Contractors in Missouri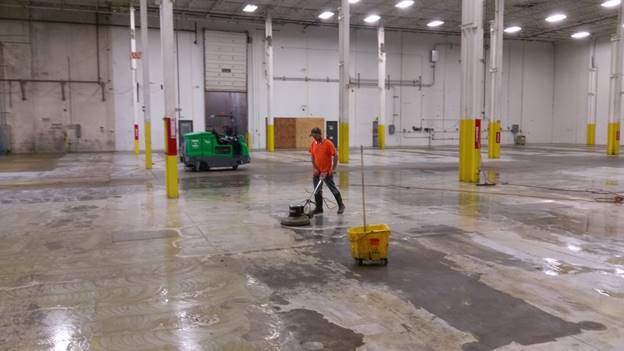 Concrete grinding may be required for a multitude of reasons, whether you need a concrete floor prepared for staining or polishing or for the laying of a different floor covering. AES employs professional concrete grinding contractors who provide high-quality concrete grinding and polishing services. No matter how large or small your project may be, the professional team at AES can help you.
If you are looking for high quality concrete grinding contractors in St. Louis, St. Charles, Columbia, or other surrounding Missouri area, contact Advanced Environmental Services today to learn more!
Why You Need Concrete Grinding Contractors
There are several reasons why you may need to hire professional concrete grinding contractors like the ones at AES. One of the primary reasons is for quality. The machines available to us have a much higher capability than any machines you can rent. This ensures a quicker process as well as an overall better final result.
The following are some reasons why you may need to hire professional concrete grinding contractors:
Removing Adhesive and Old Concrete Layers – Concrete grinding can remove not only the top layers of concrete, which may have surface chips or cracks, but also old flooring and floor coatings along with any glue or grout that was used in the installation of these.
Polishing – Concrete grinding is normally the first step towards concrete polishing, this can smooth out any uneven spots before the finer grades of diamond discs can be used.
New Flooring – If you are installing a new type of flooring, grinding may be necessary for the preparation of the old surface first. Any oil or dirt that has accumulated can be cleaned and will leave the concrete sub floor in a prime condition for the new flooring.
Level floors – Over time or due to the result of poor workmanship, the concrete floor may have risen or become uneven. By using professional concrete grinding contractors such as AES, any trip hazards or doors that cannot close properly can be rectified. Grinding can also lead to better water drainage.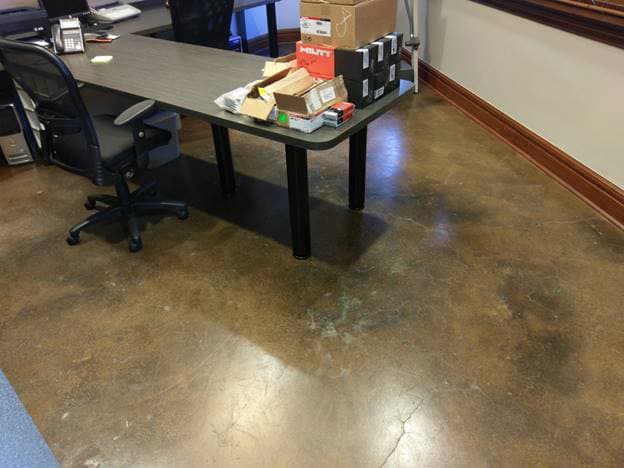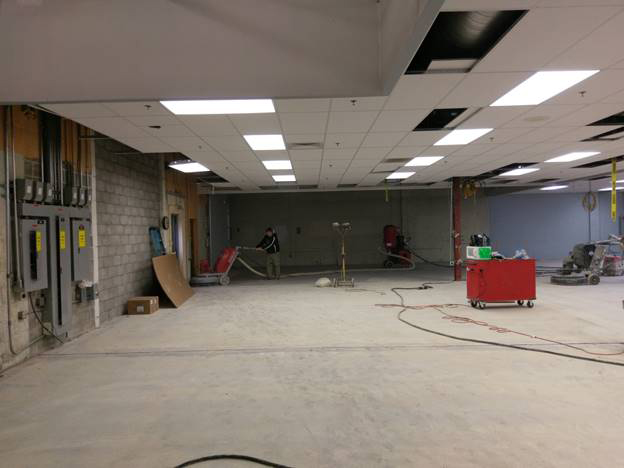 Our Concrete Grinding Services
Our concrete grinding contractors can use a wide range of equipment to handle any job, big or small. The machinery utilized by our skilled workmen all use diamond grinding discs of various grits, which ensure the concrete floor can be ground to the required smoothness for your project.
As this type of work can create large amounts of dust, our equipment is fitted with dust suppression systems to remove any dust before it has the chance to enter the atmosphere. This suppression system is not just important for worker health, but is also critical when performing concrete floor grinding in medical or pharmaceutical manufacturing plants.
Contact the Best Concrete Grinding Contractors in St. Louis, St. Charles, & Columbia
As one of the leading concrete grinding contractors in the St. Louis region, AES is proud of the flooring services that we offer. Be it in commercial kitchens, food preparation areas, pet care buildings, packaging plants, and more, we can complete your project with minimum disruption to your business.
If you are interested in any of our concrete floor grinding or flooring preparation services, contact our concrete grinding contractors and flooring specialists today. We will be happy to help you understand how our services can best meet your business needs or provide you with your personalized quote.