What to Expect from Advanced Environmental Services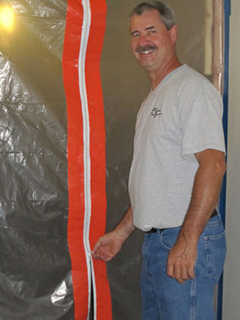 At Advanced Environmental Services, we understand that it can be difficult to find a company that you can trust to do repairs, restoration, or remediation on your home or commercial building. If you have found mold or other hazardous materials including asbestos or lead in your home or building, we have the experience and knowledge to help. The specialists and inspectors at Advanced Environmental Services will treat each project with dependability and professionalism. By using the most current equipment and techniques, we are able to handle remediation jobs of any size or scale.
Our main environmental remediation and restoration services that are available to commercial, industrial, and residential customers throughout Missouri, including St. Louis, St. Charles, & Columbia, include:
Professional Mold, Asbestos, and Lead Abatement Services
When you hire Advanced Environmental Services for our mold remediation, asbestos abatement, or lead remediation services, you can expect professional service and outstanding results. We have experience offering mold remediation, asbestos abatement, lead remediation, demolition, and restoration services to commercial, residential, and industrial clients. As a result of this experience, we understand that remediation services can be a major disruption in our client's lives.
Whether we are completing a mold remediation project in your home or providing asbestos and lead abatement services in your commercial or industrial building, we understand the challenges that you will face. Therefore, we attempt to contain hazardous materials to a defined construction area whenever possible so that you may continue partial occupation of a building during remediation or restoration. Additionally, it is our goal to complete each project efficiently and in a timely fashion. This ensures that you can be back to living in your home or continuing business as usual as soon as possible with limited interruption.
For our residential and commercial mold remediation, asbestos abatement, and lead remediation services, we use the latest techniques and equipment. This helps to ensure projects are completed properly and within the projected budget. Additionally, we remain compliant with all safety and regulatory agencies during any mold remediation, asbestos abatement, lead remediation, restoration, or demolition project for the safety of you and our employees.
Our Commitment to Clients for Mold, Asbestos, & Lead Abatement Services
We make an effort to contact our previous customers following the completion of our mold remediation or asbestos abatement services in order to ensure their satisfaction with our company. It is our goal that each customer has found our remediation specialists and trained inspectors to be reliable, dependable, experienced, knowledgeable, and professional. Advanced Environmental Services aims to please past clients who received services for lead abatement, mold remediation, asbestos abatement, fire and water damage restoration, or demolition for both commercial and residential customers throughout St. Louis, St. Charles, & Columbia, Missouri. For information on any of these services or to learn how we can address your issues, request a free personalized abatement or demolition quote or view our environmental remediation services page.