Demolition Contractors
Advanced Environmental Services offers a complete range of demolition services. Whether you are demolishing an existing building or structure or preparing for a major remodel, we are leading demolition contractors with the experience and knowledge needed for both large and small jobs. Our demolition contractors are prepared to safely and efficiently complete any demolition project for commercial, industrial, and residential properties. Our complete demolition services available to clients throughout St. Louis, St. Charles, and Columbia, Missouri include:
Total Building Removal
Complete or Specialized Interior Demolition
Trash Removal
Underground Storage Tank Removal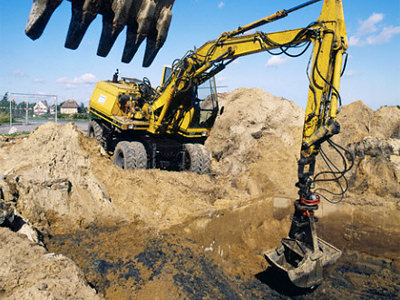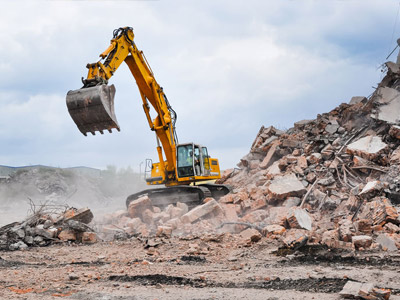 Complete Hazardous Material Abatement and Demolition Services
Because Advanced Environmental Services is an environmental remediation company experienced in mold removal, asbestos abatement, and lead remediation, we can offer complete renovation or demolition packages that incorporate hazardous material abatement in addition to demolition. Our demolition contractors follow OSHA recommended demolition practices when removing asbestos and other hazardous materials during a demolition project. By using Advanced Environmental Services as the only contractor, individuals and businesses that need major projects completed can save time and hassle as our demolition contractors will be responsible for a complete range of services. Therefore, as demolition contractors, Advanced Environmental Services will manage your entire project including hazardous material abatement, demolition, and renovation services.
Specialized Interior Demolition Contractors
As a leading demolition contractor company operating in Missouri, Advanced Environmental Services specializes in interior abatement or demolition services. Interior demolition involves removing the inside of a structure without harming the exterior or structural integrity of the building. Specifically, our demolition contractors are able to complete any size interior demolition project even in buildings that are currently occupied. Even if an interior demolition project includes hazardous material removal, our demolition contractors will contain the dirt, dust, and debris within our work area allowing part of the building to remain occupied. This can allow you to continue business while your demolition project is completed.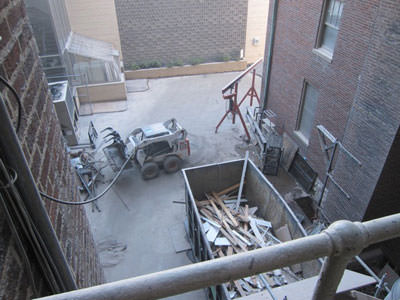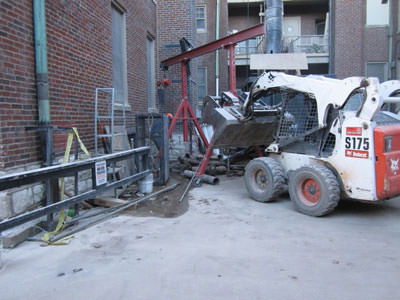 Complete Building Demolition or Facility Abatement
Facility abatement or complete building demolition refers to the total removal of a building or structure. The building demolition services, which are available from our demolition contractors, include the demolition, cleanup, and removal of an entire building and all of its materials. Our demolition contractors are experienced working with hazardous materials and will take care to remove any contaminants or pollutants during a building demolition project.
Contact our Demolition Contractors in St. Louis, St. Charles, & Columbia, Missouri
If you are planning a complete building demolition, underground storage tank removal, or interior demolition project in Missouri, including in St. Louis, St. Charles, or Columbia, contact our demolition contractors to learn more about our demolition services. Prior to any demolition project, we will provide an accurate and comprehensive demolition survey report. This survey, performed by experienced, licensed inspectors, will analyze and report the existence of any hazardous materials including mold, asbestos, or lead.
As a St. Louis-based demolition contractor offering demolition and environmental remediation services to residential, industrial, and commercial clients throughout Missouri, Advanced Environmental Services operates in a number of towns and major cities including:
St. Louis, MO
St. Charles, MO
Columbia, MO
Learn More from Our Demolition Contractors
To learn more about building demolition, check out the links below: